Making dogs happy since 2002
About Us
GROUP HIKES for dogs off leash, on the trails in the Oakland hills
Tracy's TLC specializes in off-leash group hikes for up to 6 dogs. Tracy will pick up your dog in her van and drive to one of the East Bay Regional Parks, where most trails allow off-leash dogs. The dogs have a great time, but that's not all! Your dog will learn from their interactions with other dogs and people, resulting in a more comfortable and confident dog.
Tracy Timmer, owner/operator of Tracy's TLC, believes that dogs thrive when they can walk and run in a natural setting, rather than a sidewalk. The sights, sounds, and smells of the trails enrich our dogs' lives. It's also important that they socialize with members of their species as well as people. This experience results in a happy and well-adjusted dog.
Tracy's Story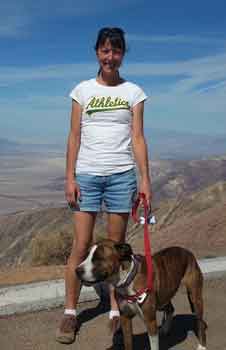 Before I started Tracy's TLC in 2002, I worked in marketing for tech companies, but it was just a job. I wanted a passion. As a lifelong animal lover, dog walking made sense.
At the time, there were very few resources for a dog walker to get educated about dog behavior. So I volunteered at the Oakland Animal Shelter for a few years, getting exposed to the diverse personalities of dogs. I joined a dog walkers group, where I found mentors.
I have met so many wonderful clients, who I consider friends. Almost half of my clients have been with me at least 10 years…some go back to 2002! I attribute that longevity to my philosophy that your dogs are family to me.
That extends to clients who want to go out of town once in a while, without their dogs. Boarding is available at Tracy's house, only for the dogs that are on Tracy's regular weekly schedule.
Unlike many dog walking businesses, I don't have employees. When I occasionally take some time off, I offer my clients a substitute who is experienced, someone who I've known for years.
My service area is small, just part of Oakland and Piedmont, CA (zip codes 94601, 94602, 94605, 94610, 94611, 94619). This makes the drive to the trail quick. The dogs don't want to wait too long, and neither do I!