Tracy's Story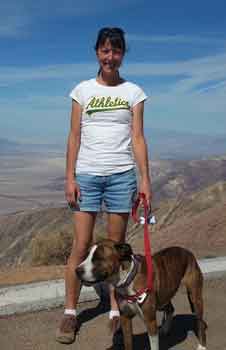 Before I started Tracy's TLC in 2002, I worked in marketing for tech companies, but it was just a job. I wanted a passion. As a lifelong animal lover, dog walking made sense.
At the time, there were very few resources for a dog walker to get educated about dog behavior. So I volunteered at the Oakland Animal Shelter for a few years, getting exposed to the diverse personalities of dogs. I joined a dog walkers group, where I found mentors.
I have met so many wonderful clients, who I consider friends. Almost half of my clients have been with me at least 10 years…some go back to 2002! I attribute that longevity to my philosophy that your dogs are family to me.
That extends to clients who want to go out of town once in a while, without their dogs. Boarding is available at Tracy's house, only for the dogs that are on Tracy's regular weekly schedule.
Unlike many dog walking businesses, I don't have employees. When I occasionally take some time off, I offer my clients a substitute who is experienced, someone who I've known for years.
My service area is small, just part of Oakland and Piedmont, CA (zip codes 94601, 94602, 94605, 94610, 94611, 94619). This makes the drive to the trail quick. The dogs don't want to wait too long, and neither do I!